Related Video

 About this item
Super bright spot beam: high-quality LED chips Emit bright white light; concentrated spot beam illuminates to further distance

Adjustable mounting bracket: the light bar can be adjusted to about 45 degrees, which makes changing the direction of the light beam easier

Better heat dissipation: special designed die-cast aluminum alloy cooling fins effectively extend the lifespan to over 30, 000 hours

Superior quality wires: good electrical conductivity, high temperature, and melting resistance, outstanding bending performance
Specification
LED Power: 18W (6 x 3W High Intensity LED)
Item Weight: 2 pounds
Product Dimensions: 11 x 2 x 3 inches
Amperage: 15 Amps
Beam Pattern: Spot Beam; Lumen: 1260LM
Input Voltage: 9-30V DC (fits 12V, 24V vehicles)
Working Lifespan: Over 30,000 hours
Working Temperature: -40~85 degrees Celsius
LED Color Temperature: Pure White 6000K-6500K
Material: 6063 Aluminum Profile, High quality Led Chips, PC Lens
Waterproof Rate: IP67; Waterproof, dustproof, quakeproof, and anti-corrosive.
Certifications: CE, FCC and RoHS
Wiring Harness Kit-2 Leads:
10ft wiring harness, 2 sets of power connectors to light fixtures
Maximum Wattage: 180W, Max Ampere: 15A; Operating Voltage: 12V DC Power
Feature
Extraordinary Waterproof Performance
The Led light is well sealed by a waterproof rubber pad and silicone sealing strip, fastening screws enhance the waterproof effect.
Brighter Than Expected
High-quality LED chips to emit bright and white light, reflector cups produce concentrated spot beams for long-distance irradiation.
Adjustable & Durable
With an adjustable mounting bracket, the work light can be adjusted to about 180 degrees, which makes changing direction easier.
Power Relay
Adopted with high-quality materials, the power relay plays an important part in safety protection and circuit conversion.
Premium Wire
This is a heavy-duty wiring harness with a standard wire gauge of 16 AWG, which can be used to connect a light bar less than 180W.
Two Leads
Convenient to hook up 2 pcs of work lights, light bars, driving lights, or fog lamps less than 180W for your off-road vehicles.
Diagram
(Easy Plug N Play)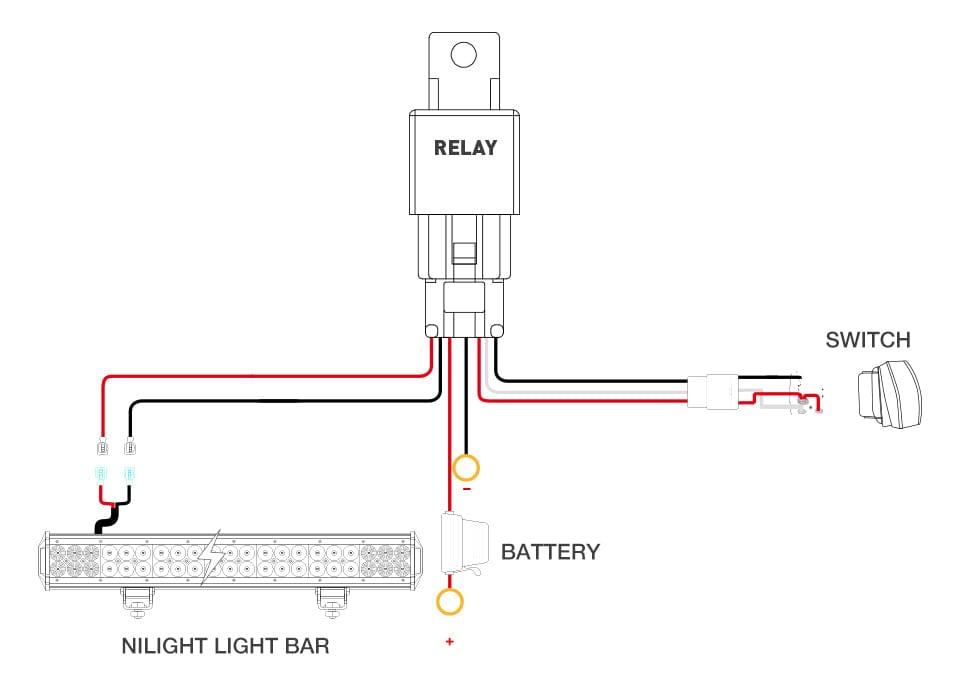 Applications
Applied positions: Bumper Light, fog light, headlight replacement light, windshield light, side light, roof light, backup/reverse light;
Applied vehicles & equipment: Jeep, truck, Subaru, ATV, UTV, SUV, motorcycle, dirt bike, golf cart, lawn mower, tractor, snow blower, trailer, forklift, boat, excavator, dozer, harvester, etc.
Applied fields: Offroading, firefighting, hunting, fishing/boating, farming/agriculture, construction, mining, gardening, household (Note: For household lighting, you need to use a voltage transformer/converter to convert the AC 110-120V To DC 12V.)
Package Included
2PCS 18W Spot LED Light Bars and mounting brackets 

Note
They are aftermarket parts. NOT D.O.T. approved. Do not use if D.O.T. is required. Before installing this product, please check your state/provincial and local/municipal laws and regulations.
All Orders gets free standard delivery.
Standard delivered 7-10 Business Days
Express delivered 3-7 Business Days
Orders are processed and delivered Monday-Friday (excluding public holidays)
all customers enjoy free returns.
Nilight 2 Pcs 4-Inch 18W Spot Off Road LED Light Bar & 16AWG Wiring Harness Kit-2 Lead, 2 Years Warranty
Love it easy to install and looks great.
Installed it on my 97 CRV. Came with everything you need to install it. I was worried that the harness wasn't long enough but definitely came with enough wire to route through the firewall. Foglights and harness seem to be of great quality doesn't feel and look cheap. Will be ordering more soon for my other cars. Drove around at night definitely helps brighten up the road alot more.
Great set of lights set of lights
Put on my jeep great product
Order the correct mount for your vehicle.
I installed these lights on a 5th gen 4Runner TRD Off Road. I already had an 8 gang panel/fuse box installed in my 4Runner so hooking them up was a breeze. I had a harder time removing the buttons from the panel under the hood to run the wires. No instructions but not needed. Pretty straight forward install. Make sure to order the mounts for your specific vehicle. Lights seem to be well designed and durable. Super bright and really light up the area ahead and to the sides to some degree.
Great lights.
I put a set of these on my brother's Polaris Ranger. He loves them and even added a backup camera to see when he backs up.
Great Light for a Great Price
Great ready to go Ditch light Pods. It was an easy installation, and they're nice and bright.
Very easy
It was just too easy to install
Very bright, lower power draw.
I used these lights to replace the old KC Hilights on my old school sand rail. One of the KC's broke and I wanted something with a similar look. These worked perfect. I will say the mounting hardware (Nuts & Bolts) are low quality, but that is a minor problem. I used stainless steel fasteners from an local Ace Hardware. These do give off more light at less wattage than the old KC's. I would recommend this product.
All you need!
Great little kit, easy to install and works well, bright!!
Good bright light
Works well on my golf cart
Great LED Kit for Motorcycle
I love this kit. I installed these on a 2012 Honda NC700X, mounting them to GIVI engine guards using some versatile brackets and a controlled by a handlebar mounted 3-pin switch (links below). The versatility of the mounting brackets ensures you can point the lights exactly where needed.The build quality on the lights and the harness are impressive. I'm particularly pleased with the wire gage and coating, which I'm confident will withstand the elements over time. The included fuses and connectors are a nice touch if you don't already have a few terminals and connectors in your toolbox. If you don't have connectors, you may need to order some to make the wire connection to the switch (the version I ordered came with bare stranded wires, rather than a 3-pin plug that mates to the Nilight harness).The light is adequate to cover the roadside where my headlight does not. They aren't "insanely bright", but you shouldn't expect that from a couple of 4" pods. They are particularly useful in trail riding where you're constantly steering left and right, but the headlight only points straight ahead. Nobody likes surprises in the next turn...Mounting brackets (https://smile.amazon.com/gp/product/B082XKJX83/ref=ppx_yo_dt_b_asin_title_o02_s00?ie=UTF8&psc=1)Switch (https://smile.amazon.com/gp/product/B07JKPRWMK/ref=ppx_yo_dt_b_asin_title_o02_s00?ie=UTF8&psc=1)Engine guards (https://smile.amazon.com/gp/product/B00B7X9MAS/ref=ppx_yo_dt_b_asin_title_o04_s00?ie=UTF8&psc=1)